What is direct-response copywriting, and why should you care?
"Direct-response" copywriting is the advertising with a specific call to action that makes people buy now.
According to the Winterberry Group, it is expected that companies will spend in 2021 over $175.9 billion on direct marketing.
The Accelerated Program for Six-Figure Copywriting by AWAI is a 90-day program that covers everything you need to know about becoming a successful copywriter.
In this article, I have only scratched the surface of what's offered on this course.
My goal is to give you a preview of what to expect.
Part 1: Getting Started as a Copywriter
It gives you a solid background in what it takes (and doesn't take) to be a successful copywriter.
Part 2: The Fundamentals of Persuasive Writing
What I loved the most about this module is the step-by-step guide on creating the buyer's profile. And how we can use that information to write a powerful sales letter.
Here are some key lessons:
– The three fundamental rules of selling:
People don't like the idea of being sold
Appeal to their feelings and desires (The most important ones are Fear, Greed, Vanity, Lust, Pride, Envy, Laziness)
Once sold, people need to satisfy their emotional decisions with logic
– Get yourself at a peak emotional state because it helps you be more creative.
– Write copy as if you are writing to a friend.
– Learn everything you can about your prospects – Basic facts (age, gender, income); Interests; Core beliefs, feelings, and desires.
– The buyer doesn't want to spend money and waste time, so he/she will constantly resist reading your letter.
If they expect the direction of your letter, they will raise barriers, and you will lose them.
In other words, they anticipate your arguments and reject them.
– The hidden structure of an effective sales letter:
Headline must appeal to his core beliefs, feelings, and desires.
Start by making a promise. Don't tell people how the product works, but what it can do for them.
Paint a picture that will make him "see" himself reaping the benefits of your promise.
Prove to him that what you're saying is true.
Tell them how your product solves their problem. Present the unique selling proposition.
Make your offer
– Work hard to understand the product you are selling.
If you know the product better than other writers, you're going to come out on top every time.
"Being a high-level copywriter is like competing in the Super Bowl every day. Sure, you have to have the skills to compete, but the team that comes out ahead is the one that's better prepared."

Eugene Schwartz
– A tool that will help make your story authentic is by making detailed descriptions.
For example, instead of saying, "The Rothschilds were rich, very rich," you can say… "Over the years, the Rothschild family built eight of Europe's grandest estates. Mayer's son James, for example, built a French mansion big enough to house dozens of guests, 100 servants, and stables for 80 horses."
Part 3: The Secret Structure of Direct-Response Sales Copy
Here, you'll learn everything from A-to-Z about direct-response copywriting.
– A good way to create the feeling of intimacy is by revealing small, personal details about yourself.
– You probably know that emotions encourage people to take a specific action. Well, here are 37 emotions you can stimulate in your audience.
– Features are raw facts about your product.
Benefits are the specific advantages your product can offer them. Benefits create a psychological link between his desires and your product.
It's possible to transform every single fact about your product into a specific advantage for your prospect.
Remember what we learned above, you need to do extensive research on the product or service you are selling.
Then you should include every single benefit into the copy.
– Four critical parts that give your copy strength are… Benefits; Ideas; Credibility; Track Record.
– The headline is the most important part of an ad.
"If you haven't done some selling in your headline, you have wasted 80% of your client's money."

David Ogilvy
– Start the letter with a big powerful promise and make sure the promise is aligned with his core beliefs, feelings, and desires.
– Your sales presentation must…
Make and prove claims
Restate the promise
Show benefits
Present your USP
State or restate the offer
It also should…
Introduce an idea
Provide testimonials
Introduce the product
Use subheads to tease and stimulate
– A simple way to get real testimonials is by sending a questionnaire to happy customers. Then you use that information to formulate a testimonial.
Don't forget to get their permission by asking something like, "May we use your comments for promotional purposes?".
– "But wait, there's more…" Strengthen your offer by offering a gift if they buy the product.
Part 4: Choosing Your Path
This module introduces you to a broad range of writing opportunities in industries and niches.
– A niche is a specific area of demand for a product or a service.
By focusing on a niche, you will have it easier to find and keep clients.
You are also more in control of prices, and the demand for your services is higher.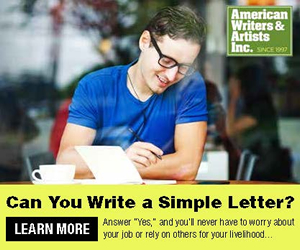 Here are some niches you can get into:
The Catalog Market – There are over 12,000 catalog marketers in the US that bring $150 billion in sales each year. So, there is a huge demand for catalog copywriters. It doesn't take much time to finish a project, and you could make $50-$75 an hour.
The Christian Market – Books and bibles make up 41% of the market but it still leaves a large percentage for other products such as movies, music, apparel, gifts…
The Health Market – You can promote supplements. The global food supplement market in 2018 was worth $124.8 billion.
The Financial Market – I don't have to tell you that the demand for copywriters in this niche is huge, and you get paid handsomely for your service.
But many copywriters hesitate to get into this niche because they think it's too complicated.
Of course, you need to do extensive research (just like with any other product or service), but ultimately you are selling the promise of added wealth, a better lifestyle, and more security… these are all universal desires.
Fundraising – The competition between fundraisers is tough so they need skilled copywriters. Not only do you get paid well, but you are also helping the less fortunate get the help they need.
B2B – The copy you write is less about selling and more about giving information so the business buyer can make a decision. Your job is basically to explain why your client's product is better than their competitor's.
Writing for the Web – Here you help businesses sell their product or services via the internet. (sales letters; Banner Ads; Blog Posts; Email marketing…)
Part 5: Your Guide to Getting Clients
In the other modules, you will learn the strategies to sell any product or service. Here, you will learn how to sell your copywriting services.